Over time, the jawbone associated with missing teeth atrophies or is reabsorbed. This often leaves a condition in which there is poor quality and quantity of bone suitable for placement of dental implants.
Bone grafting gives us the ability to grow bone where needed. Allowing us the opportunity to place dental implants of a proper length and width. It also gives us a chance to restore functionality and esthetic appearance.
Bone grafting can repair implant sites with inadequate bone structure due to previous extractions, gum disease or injuries.
Bone Grafting Overview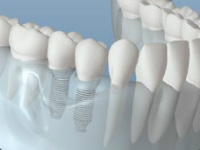 For a brief narrated overview of the bone grafting process, watch this educational MiniModule that may answer some of your questions about bone grafting.